Centre for Mathematical Social Science
Mathematical analysis of individual and collective decisions
Welcome to the website for the workshop "Algorithmic Aspects of Game Theory and Social Choice" which took place at the University of Auckland on 18-19 February 2010, organized by Centre for Mathematical Social Sciences (CMSS). This page will remain as an archive.
Scientific events
Social Events
Workshop dinner on 18 February at Wine Chambers
Boat trip to a bird sanctuary island Tiritiri Matangi on Saturday 20 February (returning to Auckland at 4:30pm).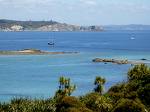 Accommodation
There is a range of accommodation options near the University where the workshop will take place. The closest options include:
Further information
Please contact Arkadii Slinko to request any more details about the workshop.
Organising Committee
Matthew Ryan (Department of Economics)
Arkadii Slinko (Department of Mathematics)
Mark Wilson (Department of Computer Science)